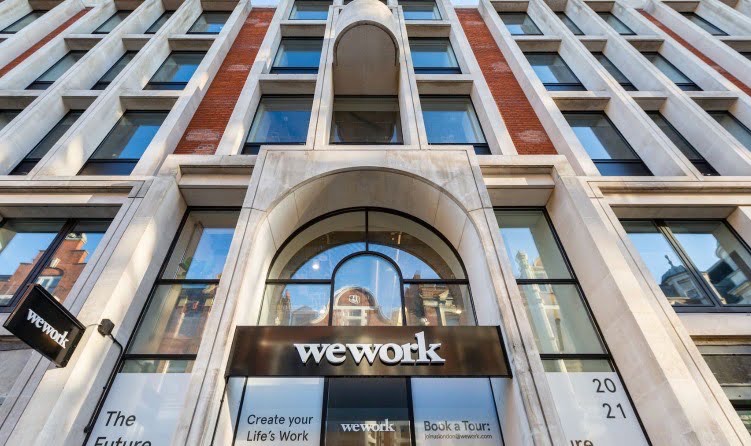 Your Guide To Renting Office Space With WeWork In London
Your Guide To Renting Office Space With WeWork In London
WeWork opened its first location in New York in 2010 and has continued to open multiple locations globally. Each centre is set up with a technology-driven flexible office solution and has helped to revolutionise the way people work by bringing its coworking model front and centre with its incredible offices. From co-working areas to renting private offices, WeWork provides flexible options to meet your business needs. Find out how you can take advantage of these brilliant co-working spaces to make a WeWork in London work for you!
Since the global pandemic of COVID-19, many businesses have been forced to work from anywhere. Large numbers of the workforce no longer must commute Monday to Friday to an office. Instead, workers can carry out their daily activities remotely. Whilst some businesses will continue to work remotely, others have encouraged employees to return to the workplace. This has led many companies to weigh up their office requirements, with large numbers opting for a shared office space where they can meet with their co-workers and clients when needed, which helps them avoid the long-term commitment that traditionally comes with a leasehold office.
Understanding How WeWork Influenced The London Leasehold Office Space Scene
London is one of the leading financial centres in the world, so it's no surprise that the start-up scene in London is thriving and leading the way in flexible workspaces. Designed for white-collar workers who know what they want from their office without the long-term commitment of a lengthy lease. Flexible workspaces are mainly occupied by small to medium size businesses to rent individual offices to a floor set up within the building. These turn-key spaces help scaling companies reduce the upfront capital cost to acquire and fit out office space and avoid the headache of taking on too much office space before it's needed. Think of a flexible workspace like a "normal" office, instead one that scales with the demands of your business and the transitional areas (reception, toilets and kitchens) are shared between other tenants.
Why Rent Office In London with WeWork
The arts, fashion, and technology continue to go from strength to strength in London, meaning it's a great place to locate your business. Renting office space in London with WeWork is a gateway to new opportunities and the start-up community. Design lead spaces encourage collaboration and help drive productivity for staff that use them. Many spices feature custom artwork, soft seating, and indoor and outdoor areas to keep your team fresh. Membership plans include access to business lounges before meeting rooms and free-flowing coffee. Flexible rental agreements allow you to scale at your own pace. The front-of-house team will answer calls, print documents and take in post and deliveries for you.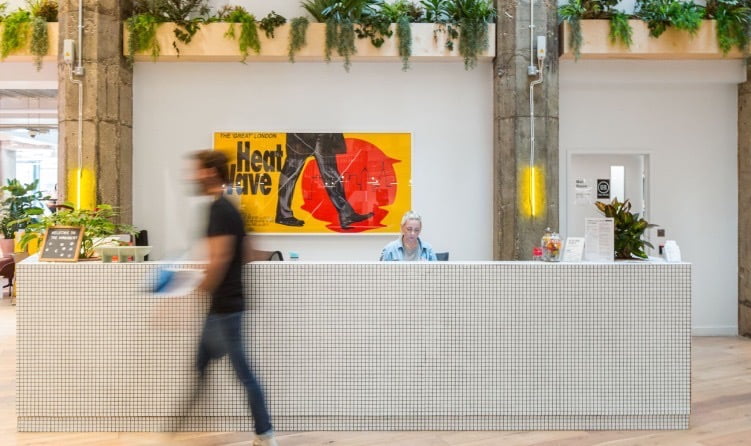 What Do I Get With The Basic WeWork All Access Pass?
Members who want to use a WeWork all access pass, allow them to drop in and drop out of office space when needed. The basic pass grants you to utilise hot desks, private phone booths, lounges, kitchens and meeting rooms. The basic pass allows access to the following London locations, Minster Court, Shoreditch Exchange, Leadenhall Street, and Churchill Place. Included are x2 credits per month and printing for up to x60 B&W and x10 colour prints.
What Amenities Are Included With A WeWork Membership?
Coworking spaces include access to super-fast Wi-Fi, communal areas, focus booths, printing and photocopying services and stocked kitchens.
What Is WeWork's Pet Policy?
Most WeWork centres are pet friendly. Not every WeWork space is pet friendly, as some landlords whom WeWork leases buildings from do not permit animals within their premises. The general rule is that provided your pet is house-trained and not left to roam unsupervised in the common areas. If in doubt, it is best to check with a centre manager before bringing along your four-legged friend. WeWork reserve the right to ask you to remove your pet if they are being noisy or disruptive in any way.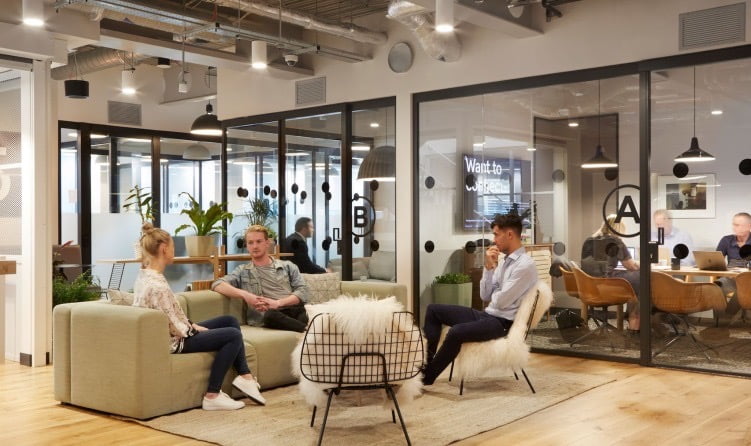 Does WeWork Have A Dress Code?
There is no dress code. It's not uncommon to see people walking around in business suits if they have a meeting that day or simply in jeans and a Hoodie.
What Are WeWork Credits Used For?
Based on the WeWork membership, members received an allocated number of monthly credits. Credits allow you to book meeting rooms and workspaces. If you go over your allotted credits, you maybe charged.
Can I Chat & Network With Other Co-workers?
Absolutely! One of the key drivers for taking on a Coworking space is the ability to network with others. Workspaces are generally designed to encourage interaction between co-workers, so you have plenty of opportunities to discuss new business ideas and engage with potential new clients. Please don't interrupt people if they are working or try to photobomb their zoom call.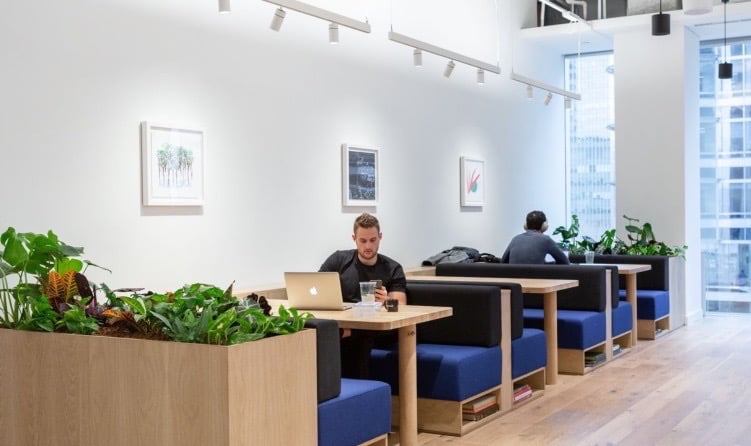 What Should I Bring?
All coworking spaces provide you with basic amenities, including a desk, chair, and access to Wi-Fi. All you need to do is to remember to bring your laptop and phone.
Where Can I Sit?
Upon arrival receptionist will give you login details for the Wi-Fi network and details of any events later that day. Coworking spaces tend to have a dedicated area where you can sit but are available on a first-come-first-serve basis.
Can I Make Phone or Video Calls In The Communal Areas?
You can make calls. WeWork has dedicated breakout areas, and some provide focus booths if you want to make a more private call and do not wish to have your conversation overheard. If you require AV some meeting rooms have been converted post-pandemic and include the latest audio-visual equipment meaning it's easy to have a Zoom/Teams or Skype meeting.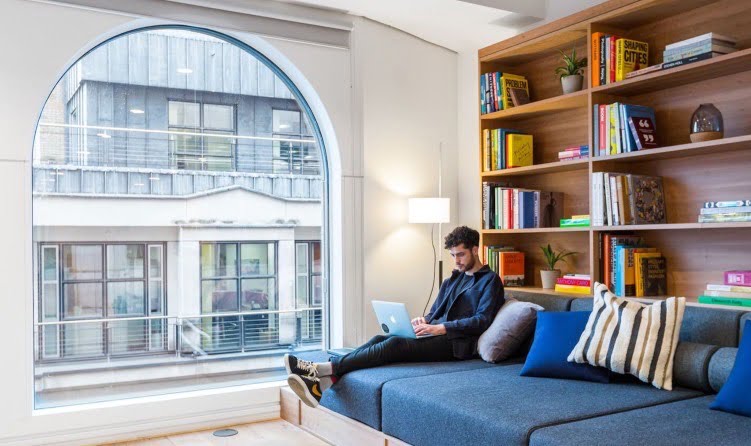 Do WeWork Credits Rollover?
Credits are based on your membership and detailed in your membership agreement. Credits are refreshed every first day of the month. Unused credits will not be rolled over into the following month.
How Do I Book a Phone Booth/Meeting Room?
The rules surrounding phone booth and meeting room booking can vary between centres, some are free to use when you see the space is unoccupied. Whereas some phone booths require you to book in advance on the app to reserve a time slot using your credits.
Does WeWork Allow You To Host Events?
Yes! WeWork offers unique and spacious indoor and outdoor venues in London and globally. You'll find a flexible solution that works for you. Bookings include complimentary Wi-Fi, on-site technical support for your AV and catering packages if required.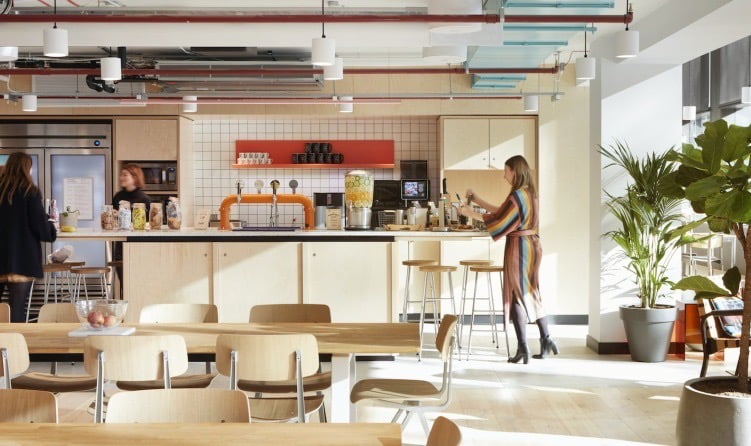 Is The Coffee Free At WeWork?
Most include tea and coffee as part of the monthly subscription plan. Facilities can range from a simple kitchen setup, where you can make your cup of tea to full on-site barista services that serve a variety of coffee, free snacks and occasionally breakfast.
Is The Beer and Wine Free Too?
Some Coworking spaces are for free beer and wine for post-work enjoyment. These are monitored by front-of-house staff to ensure tenants keep to a sensible limit and ensure other members aren't disturbed.
Can I Bring Clients/Visitors?
Depending on your membership, you may be permitted to bring in an allocation of daily guests. If you aren't sure, it is best to speak with the community manager for further details.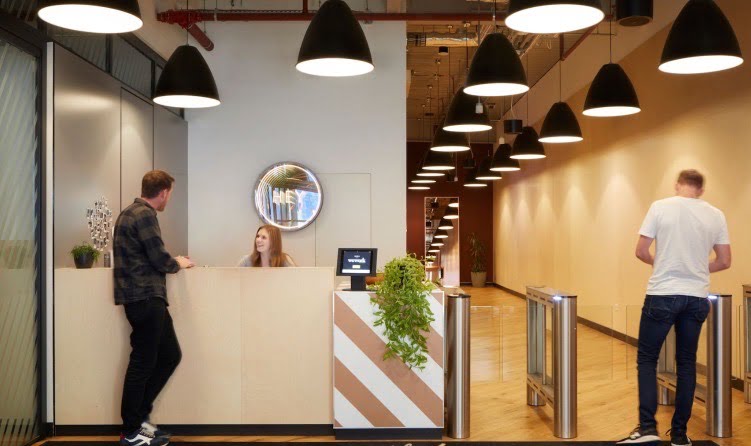 Can I Film Or Use WeWork As A Backdrop For Photoshoots?
WeWork permit members and non-members to use their sites for filming photo shoots and events.
Is There Anything Else I Need To Know Before Arriving At WeWork?
Not really, it's basic stuff! Providing you use common sense and be courteous to other members that are using the shared Workspace you'll be just fine.
Ready To Start Your Next Chapter in London?
If you are looking for office space in London, we can show you a variety of flexible workspaces throughout the city of London. To find out more about the areas that OfficeBroker.io cover in London, check out our London Postcode Guide or our Coworking Guide.